WHY MOST VITAMIN SUPPLEMENTS ARE USELESS & CAN INCREASE YOUR CHANCES OF CANCER
Did you know there isn't one single public health organization (national or international) that promotes taking vitamin pills anymore?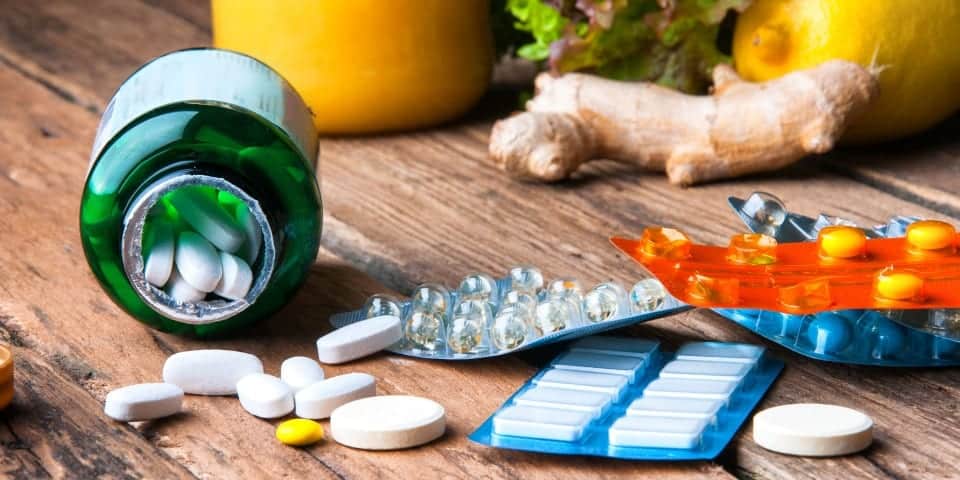 Decades of studies conducted on literally hundreds of thousands of participants all over the world have concluded… that most vitamin supplements are useless.
And furthermore, taking them in the slightest excess actually increases your chances of cancer and other illnesses!
Know your dosage
The vitamin supplement industry is poorly regulated, and these vitamins don't have to go through the stringent tests that medicine has to endure. They are also exempt from disclosing any possible side effects.
The next problem with vitamin supplements is that it's near impossible to be sure you are getting a safe dosage.
Taking a much higher dose of vitamins than nature intended in an effort to 'cancel out' the sins of your diet doesn't work. Your body is a complex machine that relies on a fine balance of what it needs. Yet in this age of information, too many people still think that consuming more than what your body needs means they'll grow stronger like some kind of superhero.
It is a common misconception that high doses of vitamins wards off illness… in fact, it does the opposite (I will explain later in the article).
Nature intended that you get your minerals and vitamins naturally from food. By doing so, you can't overdose on vitamins (this is why juicing your fruit and veg isn't healthier).  It's very simple – if you have eaten enough kale (or whatever nutritious food) to make yourself full… then you have maxed out on your vitamin dosage.
Another reason we take vitamin supplements is because of one the greatest marketing buzzwords in the health industry – Antioxidants
Antioxidants are hailed as the 'holy grail' for good health – They fight the evil free radicals.
We have all heard that popular buzzword – free radicals… and how they wreck your body.
It's true. Free radicals cause oxidation… and oxidation can lead to disease.
But some free radicals are formed as natural byproducts of your body's processes, including eating and breathing and immune system responses.
So how do these free radicals cause oxidation?
Without overwhelming you with complicated science jargon, free radicals are molecules that are highly reactive with other cellular structures.
These free radicals are missing an electron – so they steal the electron they need from your cell membranes, proteins and DNA. This is electron stealing is called oxidation.
So how do antioxidants fight these free radicals then?
Antioxidants have an extra electron – Free radicals need an electron.
So the antioxidant gives its extra electron to the free radical – which means free radicals don't need to steal electrons from your healthy cells.
OK then, so it's only logical that I take as many antioxidants as I can to fight all these free radicals right? (Especially if I lead an unhealthy lifestyle)
As much as the vitamin supplement industry would like you to think this – this assumption is very wrong. In fact, taking lab made antioxidants will increase your chances of cancer.
Sounds crazy right? If antioxidants cancel-out the negative effects of free radicals, how can antioxidant supplements be harmful?
Scientists conclude that free radicals aren't quite as nasty as the marketing department of the health industry portrays them to be.
Even though it's clear that free radicals cause damage, we actually need free radicals to kill bacteria and repel cancerous cells.
As mentioned earlier, free radicals are produced naturally, regardless of external circumstances.
So when people take high doses of antioxidants, they are creating an unnatural environment where the immune system is unable to do its job properly. This phenomenon is called 'the antioxidant paradox'. And research concludes that it causes cancer.
Health experts recommend that it's best to consume antioxidants the way nature intended (from healthy food). This ensures you don't overdose on them.
There are literally hundreds of medical and University studies that prove that overdosing on vitamins and antioxidants heightens your chances of cancer.
In 1994 Finland's National Cancer Institute studied 29,000 male long-term smokers 50 years+. They were chosen because of their high risk of heart disease and cancer. Different groups were given either vitamin E, beta-carotene or a placebo.
The results were startling – the subjects who took vitamin supplements had the highest rates of heart disease and lung cancer.
In 1999, research by the Fred Hutchinson Cancer Research Center of more than 18,000 participants who had been exposed to asbestos and who were at a high risk for lung cancer, found that patients who took vitamin A, beta-carotene or both were at a 28% and 17% higher risk of dying from lung cancer or heart disease from those who didn't take any supplements. The study was quickly brought to a halt.
Researchers from the American National Cancer Institute studied 11,000 men in 2007 examining the effects of multivitamins. The group that took the vitamins was 50% more likely to die from prostate cancer.
A similar study on women in 2011 from the University of Minnesota tested 39,000 older women who took multivitamins. The group that took multivitamins all died at higher rates.
Where did the craze start?
It all comes down to one man – Linus Pauling. He was once considered one of the greatest scientists who ever lived… but because of his great fall from grace, he is mainly remembered for one thing – vitamins.
At the age of 30, Linus Pauling released a scientific paper called "the nature of the Chemical bond" it was so groundbreaking there was nobody qualified to review it. 
When Albert Einstein was called to look at it he shrugged his shoulders and said: "it's too complicated for me". 
Pauling's breakthrough earned him his first Nobel Prize – in Chemistry.
He also published a paper that not only cured sickle cell anaemia but was so brilliant that it gave birth to a totally new science – molecular biology.
He made plenty more groundbreaking discoveries and went on to collect national and international science prizes as if they were baseball cards.
As a peace activist, he made such a name for himself – that he earned a second Nobel Prize… a Peace Prize. 
He was the first person to earn two different Nobel Prizes.
He was awarded Time magazines 'Man of the Year'.
The media couldn't get enough of him. And his ego grew.
That's when he began his research into vitamin C.
Pauling claimed that high doses of vitamin C could cure everything from cancer to HIV and everything in between… he was convinced that it would allow humans to live up to 150 years old.
Other scientists jumped on the bandwagon supporting Pauling's claims reporting that high doses of vitamin C were the cure to the common cold.
Because of Pauling's legendary status, half of America was now taking vitamin C supplements.
When scientific studies concluded that vitamin C did nothing to cure cancer, Pauling was outraged. He insisted that the study was conducted wrong.
So research was re-done to Pauling's standards… and was given the same conclusion.
But Pauling wouldn't swallow his pride.
This time he doubled-down on his theories. He claimed that an extremely high dose of vitamin C, vitamin A and vitamin E, was the winning combination for curing ALL ailments.
Although there was no scientific evidence to back it up, Pauling still had a lot of clout with the media, so Time magazine picked up the story and put it on their front page.
The vitamin supplement industry couldn't believe their luck… the FDA had been on their back questioning the efficiency of their products… now a double Nobel Prize winner was heavily promoting their products.
The Pharmaceutical industry saw their opportunity and took it… using the leverage of Pauling's status, they were able to steamroll the FDA with their lobbying in congress and paved the way to make vitamin pills a billion dollar industry.
And that's the reason people still take multivitamins today.
The pharma industry knows that most vitamin pills are useless and can increase your chances of cancer and other diseases… but then again, the pharma industry isn't in the business of healing people. They're all about making billions off the backs of sick people.
Since then, Pauling's claims on vitamin supplements have been debunked decade after decade… sadly leaving his brilliant reputation in tatters.
Linus Pauling never once admitted he was wrong and continued to take high doses of vitamins.
He died of prostate cancer and his wife of stomach cancer.
The point of this article is to explain that the best way to properly absorb vitamins and minerals is from their natural sources (vegetables, fruit, meat, dairy and wholegrains).
But sometimes we get nutritional deficiencies that our diet cant fix. In this case, it is important to make sure that your supplements come from a reputable producer… ideally from an organic source. And it's vital that you're not taking more than the recommended dosage.
Another exception is taking supplements that have been scientifically proven to treat disease. A great example of this is curcumin – a miracle compound found in turmeric that has been proven to treat a very long list of diseases.
Although curcumin has over 5100 different medicinal purposes which are published in medical journals – failing to check if it's from a reputable source can lead to lower IQ levels, brain damage and even death. Check out this article that explains it all.