Yes Emily!
Please rush me my copy of
"Natural Synergy"
including
INSTANT ACCESS
to all of the bonus material for only
$47!
Natural Synergy - The Complete Natural Healing System
But wait! For a limited time only, receive a free month of the 200% Better Life VIP Club (Free 30 day trial: cancel at anytime)!

Your credit card statement will show a charge from CLKBANK*
Note that the bonus free trial of The 200% Better Life VIP Club is completely optional, HOWEVER most of our members will opt for this opportunity as each month you'll discover powerful ways to becoming the best possible version of yourself on a physical, mental and interpersonal level. You'll uncover secrets to long term life success, AND you'll become an inspiration to everyone around you.
There is no other product on the market like this, and you will receive the first edition today for free. If you choose to stay on as a 200% Better Life VIP Club member, you will be charged $37 per month for each new issue for as long as you decide to remain a member. You can cancel at any time. Just email us!
60-Day Money Back Guarantee
I'm so confident that Natural Synergy will work for you; I'm giving you a full 60 days to try it. If for any reason, you're not happy or satisfied with the results, I'll refund every penny you paid for it.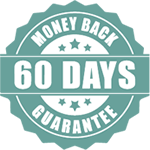 If you have any questions about 'Natural Synergy'.
Don't hesitate to contact me here: info@naturalsynergysolution.com.
I look forward to hearing of your success with my course.
Emily Parker
Co-founder, Natural Synergy
ClickBank is the retailer of products on this site. CLICKBANK is a registered trademark of Click Sales, Inc., a Delaware corporation located at 1444 S. Entertainment Ave., Suite 410 Boise, ID 83709, USA and used by permission. The website's content and the product for sale is based upon the author's opinion and is provided solely on an "AS IS" and "AS AVAILABLE" basis. You should do your own research and confirm the information with other sources when searching for information regarding health issues and always review the information carefully with your professional health care provider before using any of the protocols presented on this website and/or in the product sold here. Neither ClickBank nor the author are engaged in rendering medical or similar professional services or advice via this website or in the product, and the information provided is not intended to replace medical advice offered by a physician or other licensed healthcare provider. You should not construe ClickBank's sale of this product as an endorsement by ClickBank of the views expressed herein, or any warranty or guarantee of any strategy, recommendation, treatment, action, or application of advice made by the author of the product. The information, including but not limited to, text, graphics, video, images & other material, contained on this website is for educational & entertainment purposes only. The content is not intended in any way as a substitute for professional medical advice, diagnosis or treatment. Regardless of your current state of health, always seek the advice of your physician or other qualified health care provider with any questions you may have regarding your current health condition, a medical condition or treatment, and before undertaking a new health care regimen. Never disregard professional medical advice or delay in seeking it because of something you have read on this website. Results May Vary: the health results testimonials are in no way a guarantee of results. Individual results, including amount and time, will vary. No individual result should be seen as typical.