Maximize Yor Acupressure Session
Now You Can Apply Electro-Acupressure Yourself…

Then,
Finish The Session With Transcutaneous Electrical Nerve Stimulation (TENS)! 
New, Compact Device Is Safe & Non-Invasive
RRP $49.95
FREE!
*Just pay postage & handling
(OR keep reading to learn how to get your postage/handling FREE too)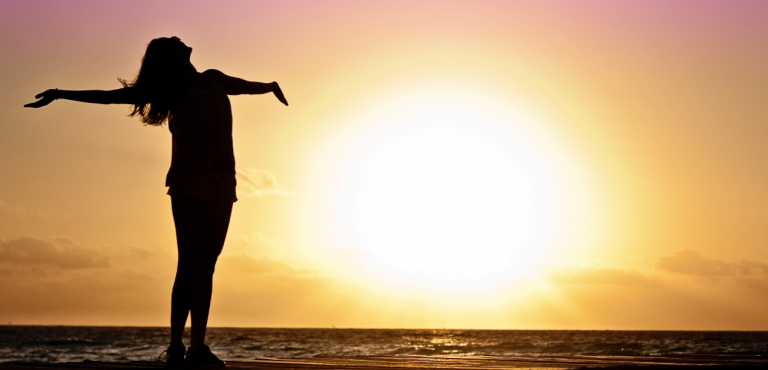 Dissolve Pain & Accelerate The Healing Process… Faster!
EPA stands for Electro Pulse Acupressure…
What is Electro-Acupressure?
Electro Acupressure is a non-invasive alternative to the 'gold standard' of acu-therapies: Electro-Acupuncture.
The tip of the EPA pen emits an (adjustable) electrical pulse… combined with the ball head or flat dome head, it's perfect for turning your acupressure session into an electro-acupressure session!
Since you're already familiar with acu-therapies, and how effective they can be…
You might be surprised to learn that the EPA Pen can also be used as a handheld T.E.N.S. machine.
TENS stands for: Transcutaneous Electrical Nerve Stimulation (TENS). It is a therapy that uses a low voltage electrical current to provide pain relief.
.
TENS units are ideal for treating the following symptoms:

This Device Is A MUST For Pain Sufferers
As a Natural Synergy Member, you can already see that the EPA Pen is the perfect tool for intensifying your acupressure session… so here are some science-back facts about TENS units… 
TENS Kills Pain By Producing A Neuron Blockade In Certain Parts Of The Brain And Spinal Cord
To understand how TENS works, you first need to understand the mechanisms of pain…
People feel pain when specific nerves called "nociceptors" detect tissue damage and transmit an electrical signal along the spinal cord to the brain.
The brain and nervous system are entirely based on the ability to transmit electric pulses.
In fact, every cell in your body is a mini battery pumping out 70-90 millivolts.
Chronic pain sufferers experience a build-up of electrical signals in the central nervous system that overstimulates certain nerve fibers – which is interpreted by the brain as pain.
This effect is known as "pain wind-up". With this term comparing the build-up of electrical signals to a windup toy. Winding a toy with more intensity leads to the toy running faster for longer.
Numerous studies published in the US National Library of Medicine have proven that TENS machines disrupt the electrical signal from the spinal cord to the brain – neutralizing the "wind-up" and sensation of pain.   
. 
G.A.B.A.
An amazing fact: electrical stimulation to the pain area triggers the release of GABA!
What's GABA you ask?
GABA stands for Gamma-Aminobutyric Acid, a neurotransmitter that is responsible for communicating between the nervous system and the brain. The body uses GABA to calm things down when emotions or physical pain become too intense.
A study published in the National Library of Medicine reveals that low voltage therapy to affected pain areas triggers the release of a neurotransmitter blocker; GABA (which reduces the sensitivity to pain).    
Trigger The Body's Naturally Occurring Pain Killing Chemicals
Like Electro-acupuncture, TENS also causes the brain to release feel-good chemicals… such as serotonin and endorphins, which also neutralize the sensation of pain.
A study published in US National Library of Medicine reported;
"TENS increases the concentration of beta-endorphins (a natural painkiller) in the bloodstream and cerebrospinal fluid, and methionine-enkephalin (another natural pain killer) in the cerebrospinal fluid, in human subjects…
Both high frequency and low frequency TENS has been shown to provide analgesia (pain relief) specifically when applied at a strong, non-painful intensity. And maybe more effective for people taking opioids (strong painkillers)."   
The Advantages Of A Portable TENS Unit Compared To A Traditional TENS Unit
Traditional TENS units have become more compact over the years… but they still can be cumbersome to use.
The settings can be complicated… the wires often become tangled, and the sticky electrode pads lose their adhesiveness which constantly needs replacing.
The EPA Pen on the other hand; is a light, compact, easy-to-use TENS unit that can be used when needed… anytime, anywhere.
Increase or decrease the device's intensity-level by pressing the + or – buttons. Then apply a light, massaged pressure to the pain area.
Or use the EPA Pen combined with the Natural Synergy App for electro-acupressure whenever you need relief! 
TENS Clinical Research
A study published in the US National Library of Medicine measured the feasibility of treating pain with TENS units instead of opioids – in the emergency room.
A chart review of patients receiving TENS units revealed that TENS was useful in relieving pain.
When surveyed, 83% of patients reported a functional improvement while using the TENS, and 100% of patients would recommend a TENS unit to a family or friend.
When surveyed, 100% of emergency department staff observed that TENS units were effective in treating pain for patients, and 97% would want to use them if they themselves were patients.

.
What You Get:
The (cordless) EPA/TENS Pen has 9 levels of intensity… It is recommended to begin at level 1 and adjust the intensity as needed.
Natural Synergy EPA/TENS Pen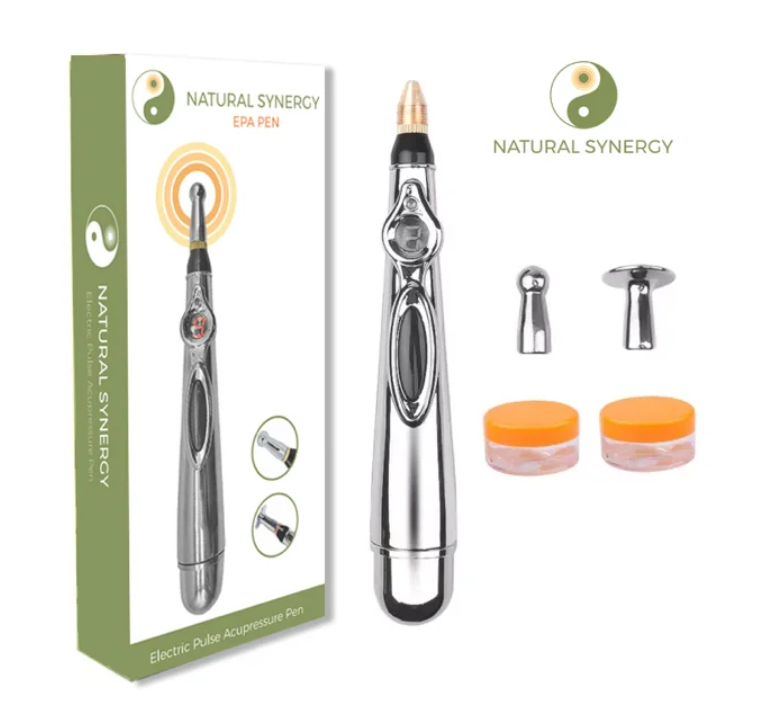 Comes with:
Two Probes –
Flat dome head: For use as a TENS unit
Ball point head: Ideal for electro-acupressure
Contact Gel – which makes the pain area more conductive
User Manual – please read before use
Specification –
Type: Electro-Acupuncture Pen/Compact TENS unit
Color: Silver
Battery: 1 * AA battery (not included)
Output: 3.7V;300mA+/-50mA
Pulse Frequency: 0.01-300Hz
Pulse Width: 100us-320us
Load Voltage: 3.3V
.
OPTIONAL FREE SHIPPING
For Natural Synergy Members
We want to share this with you if you can share something with us…
 

FREE EPA PEN

RRP $49.95

 
PLUS FREE SHIPPING
We are doing this as a thank you present for members who would be so kind as to share a positive VIDEO testimonial with us…
Right now, we are giving away the compact, EPA/TENS Device FREE plus FREE shipping – for our first 10 US members only… in return for a quick video testimonial about Natural Synergy.
We are hoping you would be open to recording a quick video review about how Natural Synergy has helped you.
Let us know you're interested in participating… and we will reserve your EPA Pen until the testimonial is sorted.
First 10 Natural Synergy Members only… so let us know if you're interested.
Email us at: info@naturalsynergysolution.com
We would LOVE to hear about your success story!